Hotel Meridional
We have co-operation with a very good hotel in Guardemar, just 10 km from Torrevieja. This is a 4 star hotel upgraded last winter and also this winter.
Hotel Meridional (in Guardamar del Segura, Costa Blanca, Alicante) already has the certificate of Quality "Bike Friendly", with exclusive services and no extra cost for cyclists.

If you enjoy travel by bike, owned or rented, Hotel Meridional offers the following services and facilities specially created for cyclists:

Bikes garage where you can store your bike perfectly positioned vertically with mounting bracket and secure with burglar indivdual, laminated padlock and chain.
Repair zone with all the tools necessary for small bikes repairs.
Washing area with high pressure water hose and stand to hold the bike while washing.
Top Hotel - Best front line Hotel of the Costa Blanca


The trivago Web users have chosen Hotel Meridional as the "Top Hotel, Best front line Hotel of the Costa Blanca", due to the good service offered and the quality provided to the guests.
Take contact with Alicante Bike Hire for booking.BOOK YOUR HOTEL HERE
Hotel Torre Sant Joan
We have co-operation with Hotel Torre Sant-Joan in Sant Joan d'Alacant. It is 8 km to the mountains starting near El Campello. It is also near Mutxamel with a lot of mtb trails. We can deliver the bike at the hotel when you are coming and pick it up before you leave. The bikes can be stored in a safe place at the hotel.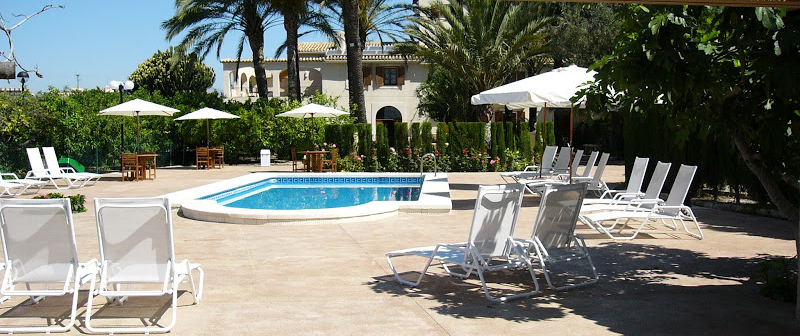 The Hotel Torre Sant Joan is a friendly hotel ideal to spend a relaxing vacation in couple or with your family. The hotel is situated 2 km from the beaches of Costa Blanca, in an ancestral home of the antique Alicante. The hotel has 22 spacious and comfortable rooms and a charming restaurant with an international cuisine. The hotel has a saloon with a library and a fireplace. If you want to relax you can spend time in the jacuzzi and the Finnish sauna or enjoy the service of massage. A spacious terrace, gardens and pool make your vacation perfect. We have a gym and a tennis court as well.
In Torre Sant Joan we offer an amount of benefits for your business trip or team building as well (conference rooms (50 persons), free Wi-Fi, possibility of using fax and making photocopies for your congresses, seminaries, product presentations, etc.)
All rooms have air-condition, heating, bathroom fully equipped, safe, satellite TV and free Wi-Fi.
The Hotel Torre Sant Joan is situated 15 minutes from the centre of Alicante by car or by the bus nº 23. It can be reached in approx. 20 minutes from the airport of Alicante. The hotel is behind the hospital of San Juan.
Photos of the hotel:
Garden: http://goo.gl/QZQAy
Rooms: http://goo.gl/YcTD4
Common zone: http://goo.gl/9Kfwh
Take contact with Alicante Bike Hire for booking.BOOK YOUR HOTEL HERE